Powerful social tool is a goldmine to build targeted audience. These marketing tools help you to find and engage the right audience which save you money and time.
Finding profitable social audience is not easy as it seems. Even if you advertise your business in social media sites such as: Facebook. You need to test, gather and analyse your website's insight. Which consume your money and time.
However, you can't ignore the importance of social media marketing to grow your business. All companies bigger and smaller use these social platforms to build social media target audience for their business.
According to stats:
53.6% of the world's population uses social media. The average daily usage is 2 hours and 25 minutes.
21% of 8-11 year old have a social media profile, swiftly increasing to 71% of 12-15 year old.
YouTube is very popular, with over 74% of 8-15 year old using this platform.
Images typically result in a 2x higher comment rate and Video gets 5x more engagement on LinkedIn, Live Video gets 24x more.
YouTube states that:
YouTube has over 2 billion monthly logged-in users!
These users watch over a billion hours of video.
Social media platforms worth your focus because they can offer unlimited users for your business. But how can you build targeted audience in any social platform fast?
In this post, i will leverage the powerful media toolkit you can use to create Facebook target audience. That saves your money and time.
But why should you use Facebook to build perfect custom audience?
Facebook is the most profitable advertising platform on the web. This great platform has huge active users all over the world.
According to stats:
Facebook is the biggest social network with 2.8 billion monthly active users.
32% of internet users use Instagram.
Facebook Messenger has over 1.2 billion monthly active users.
42% of Facebook customer service responses happen during the first 60 minutes.
57% of consumers say social media influences their shopping, led by Facebook at 44%.
93% of social media advertisers use Facebook Ads.
This means Facebook can generate unlimited leads, sales and profit for any business.
So Facebook can:
Bring targeted traffic to your site fast.
Make more revenue!
Build your brand awareness.
Engage with your audience daily. Which can help you to improve your services or products.
Build profitable email list for any niche.
Grow easily your business than other social channels!
So Facebook has unlimited benefits for your business. That's why you need this platform to find your targeted audience.
What is the perfect social tool to build targeted audience you should use?
Facebook is great platform to grow your business but you need the right tactics and tools. This need more money, time and effort to generate profitable results. Which you don't have!
Fortunately, this social media toolkit can fix all your Facebook problems and build easily your profitable custom audience. It's Audience Toolkit – Simple Social Tools!
Audience Toolkit- Simple Social Tools Overview:
product name: Audience Toolkit – Simple Social Tools
Vendor Name: Simple Social Tools Team
Sales Page: Click here
Front-End Price: $37.00 Monthly- $197.00 Yearly – $397.00 Unlimited
Guarantee: 30 Day Money Back Guarantee
Niche: Facebook toolkit
Recommend: Highly recommend
What is Simple Social Tools- social media toolkit?
Simple Social Tools is created to model and automate normal social human activity without any spam. That can build Facebook target audience for free. And saves you time and effort.
In other words, this social media toolkit builds the right audience on social media you are looking for fast. I mean the targeted one for your business through networking. So you don't need to paid huge advertisement fees to get profitable results.
Watch this video for information:
What are the benefits of this social media toolkit?
Build profitable audience for any business fast.
Automate your social networking.
Increase your engagement.
Turn your social profiles into a lead machine.
Generate more leads, sales and profits.
Save your money, time and effort.
What are the Audience Toolkit's features?
Create multiple profiles. There is no problem, you can create unlimited Facebook profiles. Then enjoy the work of this great social toolkit.
Use this social tool to build targeted audience for any niche. This saves you money and time. Because you can use it for any business to create Facebook target audience. That makes huge revenue.
Build instant authority and trust. Which helps to get unlimited social engagement, leads, sales and profits for any business.
Automate the whole social work you should do manually. That save your money, time and effort.
Engage your Facebook target audience with the right content they need. That creates great user experience for your audience. And then your business increase more.
Add 5000 friends quickly. Which increase your social networking and your profits.
Connect with new engaged users. Which increases your social media target audience automatically.
Professional filter options to control your targeted audience. So you can add or delete… any contact.
Automate content engagement. This lets you to auto like profile, groups, posts, comments… It's the best option where you increase your social media audience instantly.
Remove easily unwanted or unresponsive contact. You have 100% control over your social audience. That saves money, time and effort.
And much more features…
Therefore, this social tool to build targeted audience is goldmine for your business. It's the key to get the right audience for your business for free. As you pay less than advertisement campaigns. Which take time and effort to create the right audience you want.
What users are saying about this social tool ?
Who can use this great social media software?
Audience Toolkit is for any business. That want to get engaged audience on social sites. So you can use it for:
Ecommerce business
Coaching business
Elearning business
Online business
Digital marketing
Affiliate marketing
Social marketing
And more businesses…
There is no limited. You can use this social tool for any business you want to grow through social networking.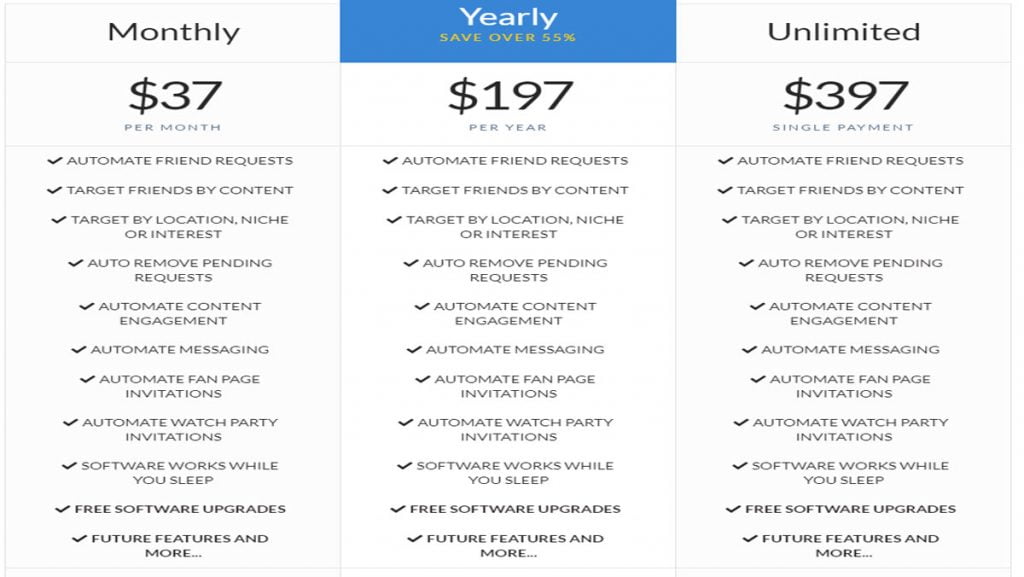 Pros & Cons:
Pros:
100% newbies friendly – 100 Risk free
Very easy to use – One click to install (Chrome extension)
Full automated
Works for any niche
Use it for unlimited accounts and unlimited businesses
30 Day money back guarantee
100% your money back refund within 7 days, if you are not satisfied – No question asked
100% Legal – No problem with Facebook
Cons:
Visit Simple Social Tools sales page here
Conclusion:
Simple Social Tools is the perfect social tool you need to find the right audience for your business. This professional tool automate the whole process you need to engage unlimited targeted users.
This social media software saves more money and time. As it builds, grow and scale your Facebook target audience for any business.
So you don't need hard-work and unlimited advertisement fees to have the right audience. This social tool automates the whole process which creates profitable audience for your business fast.
In other words, this media toolkit is your key to profit from Facebook through building powerful custom audience. Don't miss this great tool.
Thanks for reading, commenting…
nadda
What are the best tools you use to leverage social media platforms?
Social Tool to Build Targeted Audience
Summary
Reviewer
Review Date
Reviewed Item
Audience Toolkit - Simple Social Tools
Author Rating
Software Name
Software Name
Software Category